Well, as most of you know, I am largely a contest blogger. I hunt contests and awesome prizes because who doesn't love to win books? I know I do. The broke college student in me calls for it! Besides, I love feeling like a winner. Anyways, this week I let most of the contests I wanted to enter accumulate and decided to write one, long, mega contests post for amazing YA contests across the blogosphere. I follow almost 200 blogs, so get ready! Are you ready yet? I sure hope so...
The Serpentine Library
:
http://theserpentinelibrary.blogspot.com/2010/03/new-blog-layout-and-contest.html
Prize Pack #1:The entire Queen's Thief series by Megan Whalen Turner - all 4 books: The Thief, Queen of Attolia, King of Attolia and A Concpiracy of Kings (which is being published on March 23). The first three will be paperbacks, the last one a hardcover.
Prize Pack #2: Lament and Ballad by Maggie Stiefvater and a few related goodies.
Prize Pack #3: Before I Fall by Lauren Oliver (signed) and The Body Finder by Kimberly Derting
--Ends 4/10/10--
Prizes: Before I Fall by Lauren Oliver, The Sky is Everywhere by Jandy Nelson and The Dead-Tossed Waves by Carrie Ryan. All books are signed by the authors

--Ends 3/31/10--
Prize: The Sky is Everywhere by Jandy Nelson
--Ends 3/26/10--
Prize: The Dead-Tossed Waves by Carrie Ryan
--Ends 3/25/10--


The Cajun Book Lady
:
http://thecajunbooklady.blogspot.com/2010/03/250-followers-giveaway-3-prize-packs.html
Prize Pack #1 Contains Laura Child's Scrapbooking Mystery Series (and these are ALL signed!)
Prize Pack #2 YA Grab bag with signed bookmarks by Jaclyn Dolamore
Prize pack #3 Paranormal Romance and Urban Fantasy books
--Ends ???--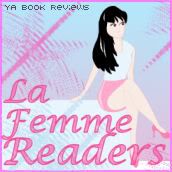 La Femme Readers:

http://lafemmereaders.blogspot.com/2010/03/jekel-loves-hyde-international-giveaway.html
Prize: Jekel Loves Hyde by Beth Fantaskey

--Ends 4/8/10--

Prize: Siren by Tricia Rayburn

--Ends 3/30/10--

Good luck! I will do a second super mega contest post as soon as I can write one! :D