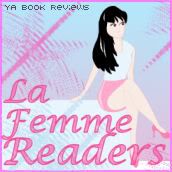 Eleni over at
La Femme Readers
is doing some spring cleaning of her bookshelves. Here is what is up for grabs:
ARC of Wereling by Steve Feasey
Finished Copy of Exit Strategy by Ryan Potter
ARC of The Knife That Killed Me by Anthony Megowan
ARC of Party by Tom Leveen
ARC of The Karma Club
ARC of Before I Fall
Amazon or book depository pre-order of Grace by Elizabeth Scott
Amazon or book depository pre-order of The Iron Daughter (Book #2) by Julie Kagawa
Amazon $10 gift card
2010 Twilight Calender off of Amazon
Your choice of a Team Edward or Team Jacob T-Shirt off of Hot Topic.com
There will be 3 winners : First winner picks whatever three prizes they want, second winner picks two and third winner picks one. Open to US and Canada only. Click on "La Femme Readers" to see more details!
Contest Ends 6/1/2010. Good luck! :D